0 items in Cart.
View Cart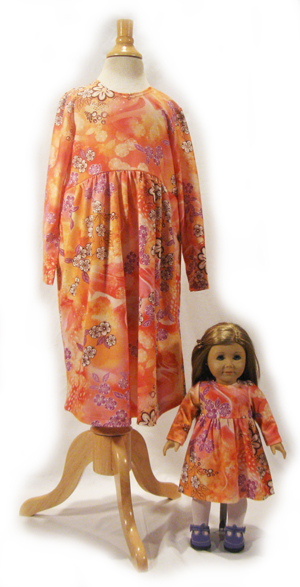 Akeim Garden - Silky Knit Dress
Asian-inspired, Akeim Garden features swirls of purple, orange and pink with floral accents including mocha-brown. Simplify getting dressed in this pull-on empire waist style dress. The fabric is a spun-poly, so it's silky and drapes nicely. Made in USA, Machine Wash. Available Sizes: Girl's 5/6, 7/8, and 10/12 plus Doll 15", 18" & 23". See Long-Sleeve Tees in this print for coordinating garments for Moms. For related accessories, consider our Pink cotton tights for girls and dolls and Purple-Suede 18" MaryJanes for dolls.
Item / SKU Number - 2008281405
Sizes and Descriptions
Doll 15" Bitty Baby
$ 13.99
10 in stock
Doll 18" American Girl
$ 13.99
10 in stock
Girl's 5/6
$ 26.99
1 in stock
Ask a question...

0 items in Cart.
View Cart